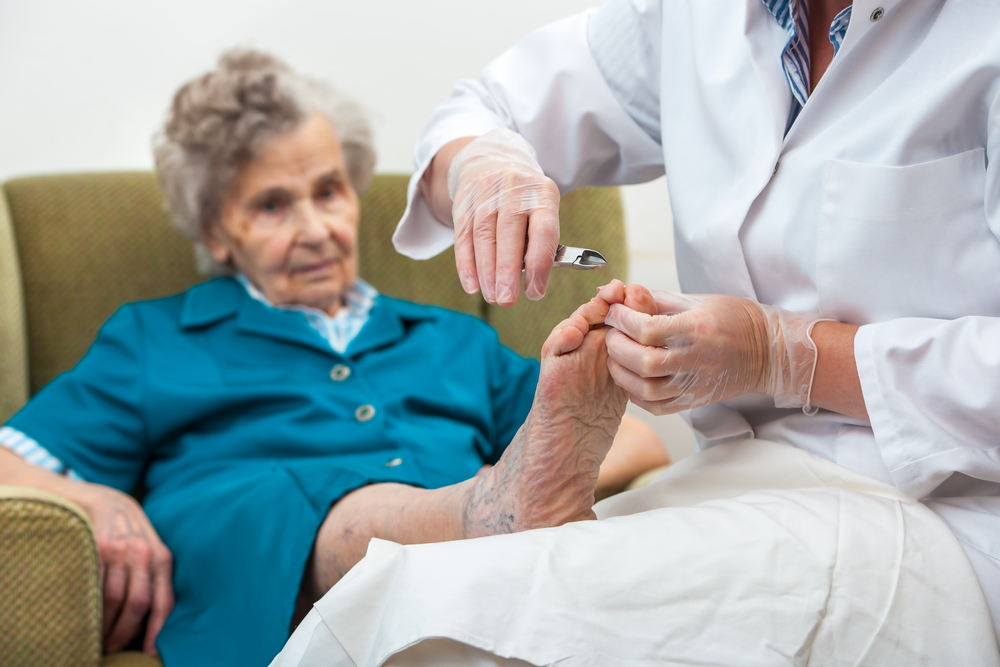 Many elderly people may experience foot problems as a result of a loss of cushioning in the feet and poor circulation. An effective way to protect the feet may be to wear shoes that fit correctly. Additionally, if standing is done for the majority of the day, the feet may feel better if gentle stretches are performed. Many patients develop athlete's foot, which is a common fungus that attacks the bottom of the feet and between the toes. This may be prevented if the feet are washed and dried thoroughly each day, followed by wearing clean socks and shoes. It is common for seniors to have dry skin, and a symptom of this may be an itchy or burning sensation. Prevention of this may include using a moisturizer on the feet after a shower or bath is taken. If you would like additional information about how to properly care for elderly feet, please feel free to speak to a podiatrist.
If you need your feet checked, contact Dr. Ronald Sheppard of Warren-Watchung Podiatry Center. Our doctor will attend to all of your foot and ankle needs and provide you with quality treatment.
Geriatrics and Podiatry
When people age, some common issues that may occur are bone density loss, dry skin, poor circulation, and rough brittle nails. These issues may also affect your foot health if the necessary steps are not taken to alleviate the problems.

It is important to take care of your feet because feet that are injured or diseased can affect your overall health. Having painful feet hinders your ability to do daily activities or may decrease your willingness to do the things that you need to do.
Visiting Your Geriatrician
As we age, health problems become more likely, so it is essential to visit your doctor for check-ups to ensure that you are doing the best you can to take care of your health. It is recommended to check your feet frequently for any possible cuts, bruises, swelling, corns or any other irregularities.
Taking Care of Elderly Feet
Cracked or dry feet can be treated by applying moisturizer often. It is also important not to wear old socks because the older the sock is, the higher the possibility there will be that there is bacteria there. Wear fresh socks and make sure they fit properly.

Proper foot health means that you can have a more active lifestyle and you will not be bogged down by pain. Foot health also leads to good circulation, which is paramount for overall health.
If you have any questions, please feel free to contact one of our offices located in Marlboro and Watchung, NJ . We offer the newest diagnostic tools and technology to treat your foot and ankle needs.
Read more about Geriatrics and Podiatry