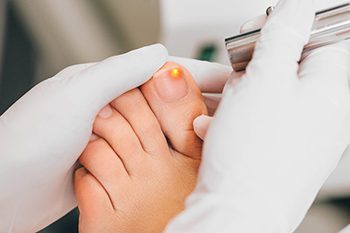 One of the treatments that are available for toenail fungus is laser therapy. Research has shown this form of treatment has a high cure rate and is generally safe. Some patients may need to have consistent treatments for maximum effectiveness. This form of treatment works by using blasts of energy that produce heat. It is directed into the affected nail and the heat will target the fungus. This is an effective method in limiting the growth of the fungus and will ultimately destroy it. Patients who are considering laser treatment will meet with a podiatrist who will clip a part of the toenail to be properly examined. This is followed by cleaning existing dead skin surrounding the nails and trimming them. Once the foot is cleaned with a sterile solution, the laser will be directed over the affected nails. Complete healing can take up to 12 months as the new toenail grows free of fungus. If you are interested in having laser treatment to cure your toenail fungus, please consult with a podiatrist who can determine if this is the best course of treatment for you.
Laser treatment can be an effective way to get rid of toenail fungus. If you have any questions about laser treatment, consult with Dr. Ronald Sheppard from Warren-Watchung Podiatry Center. Our doctor will assess your condition and provide you with quality treatment for fungal nails.
What Are Toenail Fungal Infections?
Onychomycosis, or fungal infection of the nail, is a relatively common and non-serious condition. Around 10 percent of U.S. citizens are afflicted with fungal nails. Common forms of fungus that infect the nail include dermatophytes, yeasts, and molds.
Symptoms of Toenail Fungal Infections Include:
Nail thickening
Brittleness of the nail
Discoloration of the nail
Diagnosis for Fungal Nails
Fungal infections are diagnosed by fungal culture and microscopy. This will rule out any other conditions such as nail trauma, psoriasis, lichen planus, and onychogryphosis.
What Is Laser Treatment?
Laser treatment is a non-invasive, safe, quick, and painless procedure that uses the heat from a laser to kill fungus in the nail. Each infected nail is targeted with a laser for several minutes. The treatment is usually utilized several different times over a select period. During this time, a podiatrist will keep an eye on the infection.
If you have any questions, please feel free to contact one of our offices located in Marlboro and Watchung, NJ . We offer the newest diagnostic and treatment technologies for all your foot care needs.
Read more about Laser Treatment for Fungal Nails